De KBO Hoensbroek organiseert in samenwerking met Frisse Wind op elke Donderdagmiddag een lunch voor iedereen boven de 50 jaar .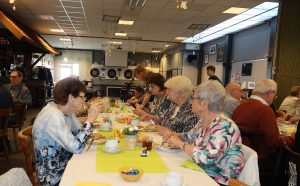 ( m.u.v. de feestdagen.) De eerste lunchmiddag zal dan gaan starten op Donderdag 7 Juli
Bij goede opkomsten willen wij het gaan realiseren om iedere week gezellig met elkaar aan tafel te kunnen eten, en te socialiseren. In ''Ons TREFCENTRUM"
Pius XII Plein. 38 in Hoensbroek Tijdstip vanaf 12:00 tot 13:00 uur
De kosten bedragen € 3,00 per keer daarvoor krijgt u een kop koffie of thee en natuurlijk een heerlijke lunch, bestaand uit brood en een broodje Kaas + boter + boterhamvlees + jam evt. een gekookt ei.
Wilt u meer koffie of thee, dan voor eigen rekening, heeft u interesse geef u zich dan op en meld u zich bij:
Wim van Bavel 06-53582090, E-mail; wim.rieky@ziggo.nl
Louis Bos 06-25229746, E-mail; louis.bos@ziggo.nl
Bankrekening nummer; NL13 RABO 0172464366
(Zie ook onze website KBOHoensbroek.nl)
Neem uw familie, buren ,vrienden, en kennissen mee, hoe meer zielen , hoe meer vreugde.